Tips to kill the time during the quarantine
Last time we tried to give you a summary of our daily work, with ups and downs but a realistic picture. This time we want to show from a slightly different perspective what our developers are doing after work. Days and nights seem confluent but there might be a tiny time for fun as well.
You would be surprised how creative IT people can be. They are considered to be introverted persons who sit in front of their PC or laptop all day and they are interested only in coding, online gaming, and movies. But the reality looks different from the perspective of Lynx Solutions employees.
#1 Never neglect coffee
Regardless of where you are, do not neglect your morning coffee. It's related to the morning routines; it will help you to wake up and start the day fresh. Drinking coffee can be good for your health like having too low blood pressure or for simply to keep you awake giving extra energy and power to be more productive. The most "dangerous" reason is when you like the taste of coffee and you have the urge to drink at least 10 cups of it every single day.
We have great coffee at the office, but since we are closed all we can do is to support the 112 Coffee in their initiative of offering free coffee for the healthcare workers who are struggling day and night to get all of us on the safe side of this whole epidemic. If you want to offer free coffee, do not hesitate to buy a voucher.
Nagy Botond, one of our PHP seniors, had this genius idea to go up on the rooftop of the block where he lives. It's 100% guarantee that he won't meet with other people and the view is breathtaking.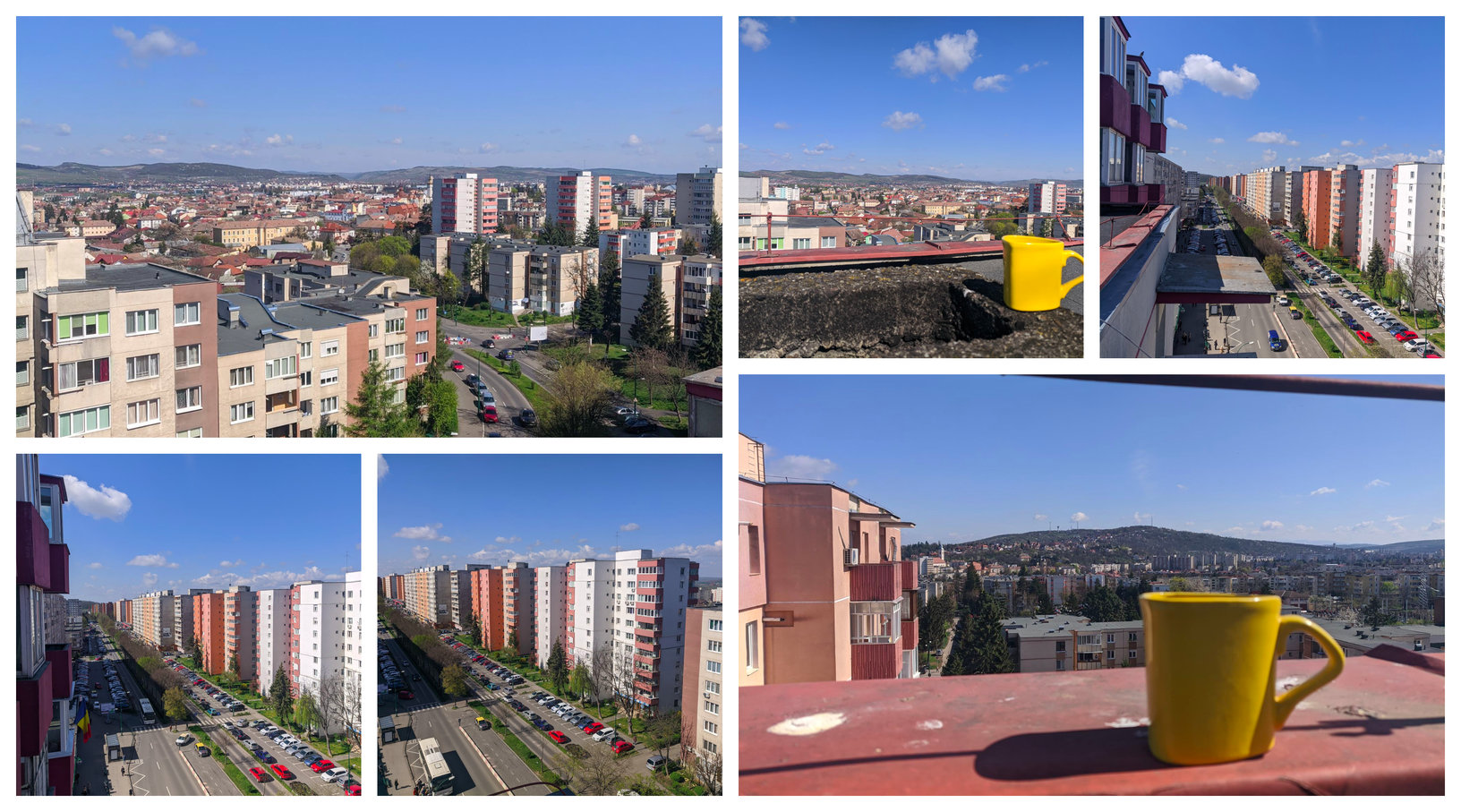 Coffee from Botond's rooftop
#2 Let nature inside your house
Nature does not need us, but we need nature inside our houses, especially in this period when going out is restricted. Even if we can't go to take a walk and get some fresh air, there are plenty of ideas about how to get closer to a little bit of greenery. You can buy some interior plants; you can plant some seeds and monitor closely how nature takes shape. You can go out on your terrace and admire the view, the sunset or the sunrise (if you are so ambitious to get up early, the majority of us are incapables of this but a few of us are getting up at 7 AM even during this quarantine).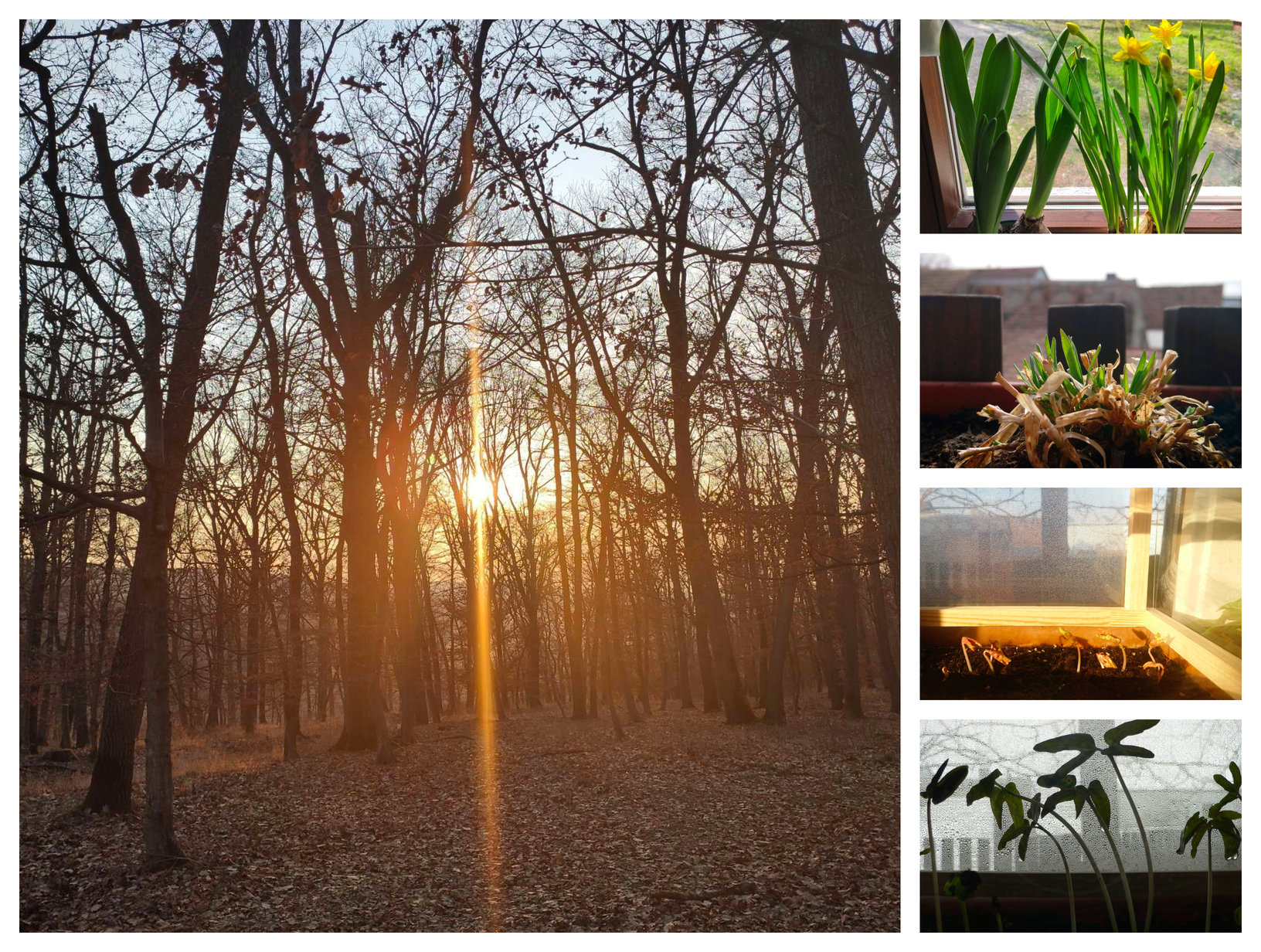 Collage done from the pictures from Lynx Solutions employees
#3 Cook, bake and eat healthy
Everybody was crazy at the beginning of the lockdown to buy flour and yeast making sure that they have what they need for baking bread. Out of the sudden people started believing that baking homemade bread is easy peasy, Facebook is full of pictures with home-cooked bread, some of those are looking delicious and some are quite rookie. But the intention is the most important thing, however, guys the bakeries are opened so no need for panicking that there won't be bread in the shops.
However, we have a few talented colleagues who are baking delicious breads. Kálmán Tamás, one of our .Net developers, managed to do the below magic, this looks real pro…well done.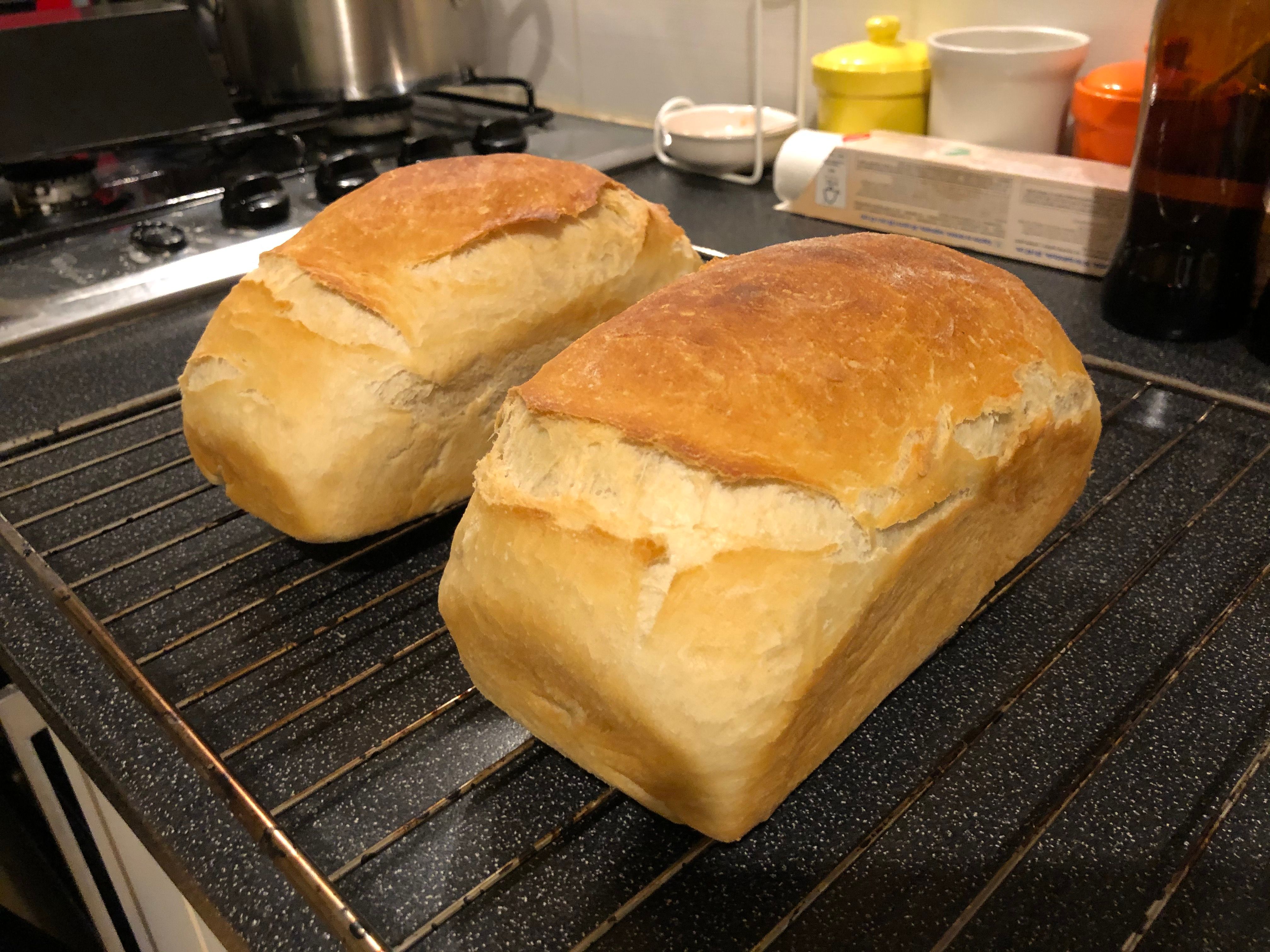 Breads baked by Tamás…some real beauties
#4 Organize online beer nights and birthday parties
Developers like to stay home in their pajamas without getting out and lose time in the traffic, a few of our colleagues from Cluj Napoca specifically highlighted that one of the biggest advantages of working from home is not losing time in the traffic till they get to the office. No surprise of hearing this, the traffic from Cluj can make you travel 1-1,5 hours from your home to the office, regardless that the location of our Cluj office is in the city center in a great spot.
Regardless of this great benefit of staying home, the guys and girls are mostly missing the going outs after work and having some beers with their friends and colleagues. This crazy digital era lets you start having "drinking nights" conference calls, e-birthday parties and online friendly gatherings. What a great opportunity to kill the time and finally see some friendly faces even if it's only through your monitor or phone. One of our colleagues from the Mures office, Titi Róbert threw an e-birthday party. Some of the people got pretty excited, look at those two in the bottom right corner…they look overmotivated but hey, after all, we are talking about a party, right?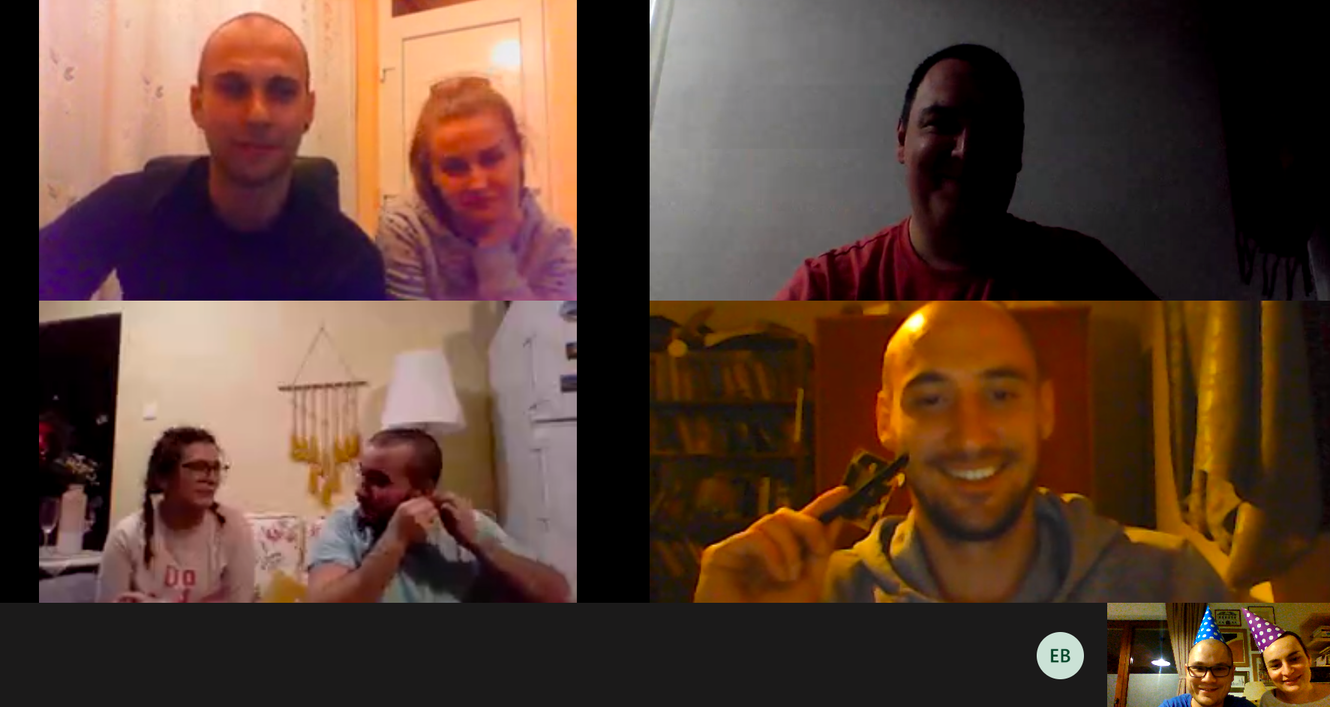 E-birthday party…never underestimate the fun part of this
#5 Do some sports
"Mens sana in corpore sano", right? A healthy mind in a healthy body is crucial these days, besides the fact that we need to take extra care of our health, we also need to pay attention to our mental health. Being locked inside your house can make you lose your mind if you don't pay attention to how to kill the time every single day. Finding physical activities can be a good option. One of our project managers/team leaders decided to learn to jump with jumping-rope. Laughing is allowed as this sounds funny. Anyhow 1 month was more than enough to get this to the next level of doing sport inside the house and jumping 5-6 times per day, around 200 jumps in 3 mins as don't think that for a developer jumping with the rope is not about the numbers.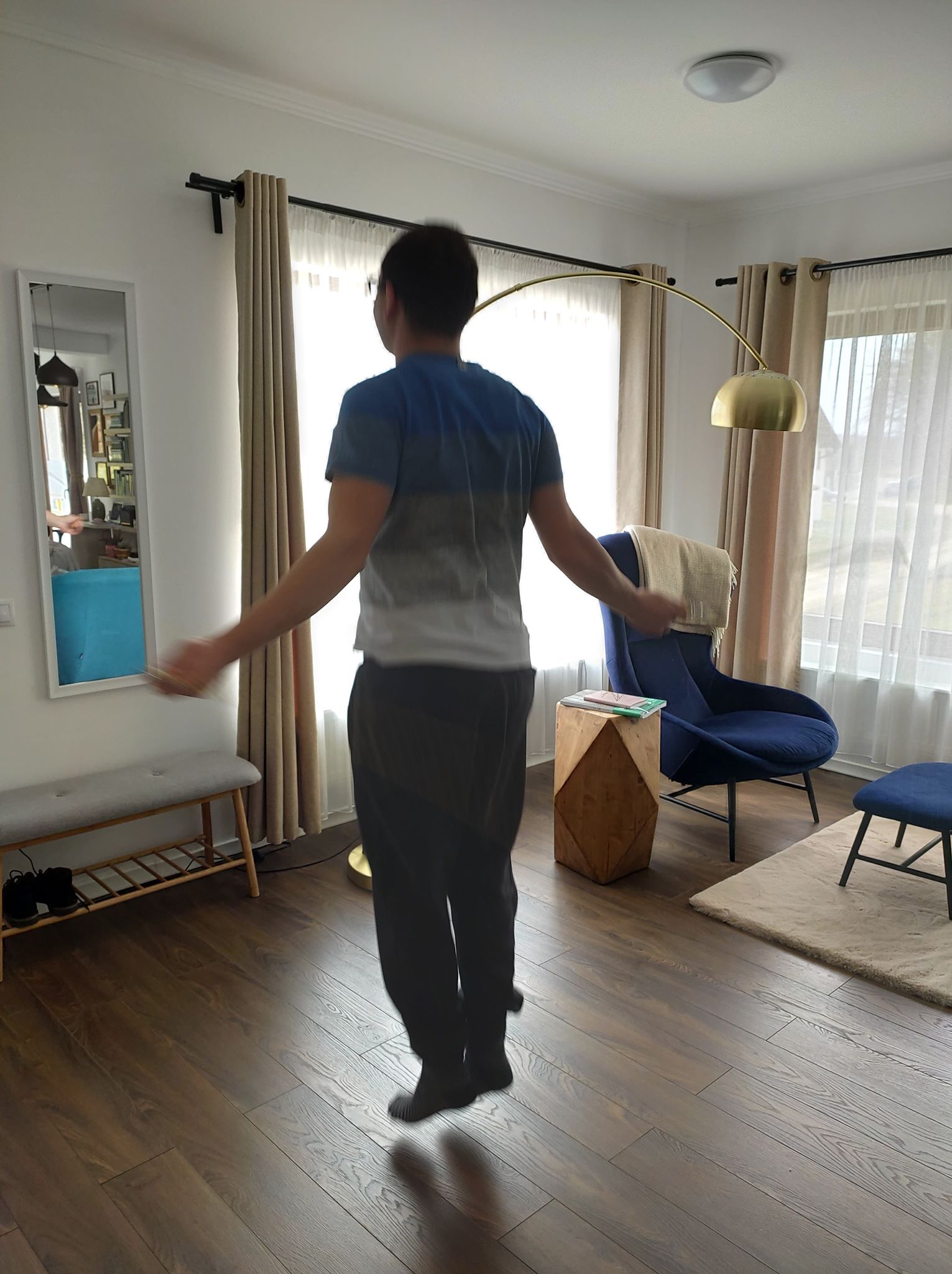 The jumping rope is not visible on the photo but let's hope he is not only imitating this
Or another very good option is dancing, regardless if it's fitness or traditional, folk dancing. Do not hesitate to limit your options and ambitions, neither our .Net developers do. If you can find some friends (cats, dogs) who are willing to be in your video and help you with the choreography, it's even better (do not forget about social distancing, in István's case there is no risk as no one is willing to be in his videos except the dog (see older videos on his FB wall) and the cat.
#MaradjOtthon #PontozOtthonKöszönöm a táncba invitálást Bugnár Loránd – nak. Az én kíhívottjaim: 1) Udvari Zsólt (Curte)2) Incze Zoltán (Cuska)3) Varró Huba (Mester)Extra kíhívottam Zsombor Bence Juhász (miután felépül a hát sérüléséből, jobbulást Zsombi)A kiváló muzsikát az Üsztürü biztosítja.(https://www.youtube.com/watch?v=6nmbCpPaCVs)#KocsisJóskaBácsi

Publicată de Korpos István pe Duminică, 5 aprilie 2020
I know, I know, he's good, he is a professional folk dancer and he is working at Lynx Solutions 🙂

Although the company did everything possible to assure our comfort for the home office, still there is one thing missing mostly by our colleagues from the Cluj office, the table football. We have this magical thing in both offices but somehow this is not so famous in the Mures office. The guys from Cluj are missing the daily championships. I guess this is the best combo ever, soccer + sport + fun + socializing. No wonder that they are missing this badly. Kukukk and Balázs, let's hope that when this state of emergency goes away, you can have a full day of foosball to catch up.
We hope you enjoyed our tips, feel free to overtake anything you find interesting and fun. Must say a big "thank you" (for both articles Part 1 & Part 2) to all of those colleagues who gave me their input about working remotely during the quarantine (in alphabetical order): Balogh Szabolcs (alias Kukukk), Fogarasi Ferenc, Fülöp Mihály, Kálmán Tamás, Kendi Balázs, Korpos István, Nagy Botond, Nóda Lóránd, Ramona Siklódi, Sütő Attila, Szabó Arnold, Titi Róbert (the birthday boy).
Cover image source – Photo by Priscilla Du Preez on Unsplash
The rest of the photos & video were created by Lynx Solutions colleagues.