Innovation can be challenging. Everybody has a different view on this, depending on his domain of activity and level of experience. We tend to believe that innovation is just about microchips implanted in human brains or self-driving cars and talking robots. How about a tree map of your city? Why can't that be something innovative to do an inventory of all the existing trees in a city? Pando and Lynx Solutions had this great idea of UTree and now the map gets greener and greener.
Without any doubts, innovation can also mean company culture, a new methodology, a DB structure or micro-service architecture developed differently, a new business model or new market opportunities. Indeed, it's not equal with a flying car, but still it means a revolutionary idea inside a company. Learn to appreciate the results and don't get demotivated by the big ones.
Working in IT sometimes outcrops questions like "do you guys innovate? Who's the most innovative company in your city?" It's like everything must be an innovation otherwise it's worthless. It's a common mistake to compare results with Google, Facebook, Microsoft or other giant Godzilla company without taking a moment and thinking about the fairness of this comparison. This is not necessary a healthy comparison, neither from geo-location point of view or company size, clientele, budgets, investments, and project complexity point of view.
Romania has some great start-ups as well, so life does exist outside of Silicon Valley. As a good example is the UiPath start-up which earned a world-wide successful. This start-up managed to raise $153 million from international investors in 2018 and $568 million in 2019, reaching to $7 billion valuation. If you need any RPA strategy and solution, this is the company you need to contact (welcome UiPath for the free advertisement 🙂 ). The Bucharest based company has a head-quarter also in New York and office on all continents, so their success is undoubtable.
Further interesting facts about Romanian start-ups can be read in this article of Seven Romanian tech start-ups to watch in 2020.
Even if innovation seems something unreachable in this world, where IoT, AI, and machine learning are dominating every aspect of our activity, we can do a few key actions to encourage the innovation inside the company. Nevertheless, Romania is the last one on the European Innovation Scoreboard, we should not get discouraged by these statistics.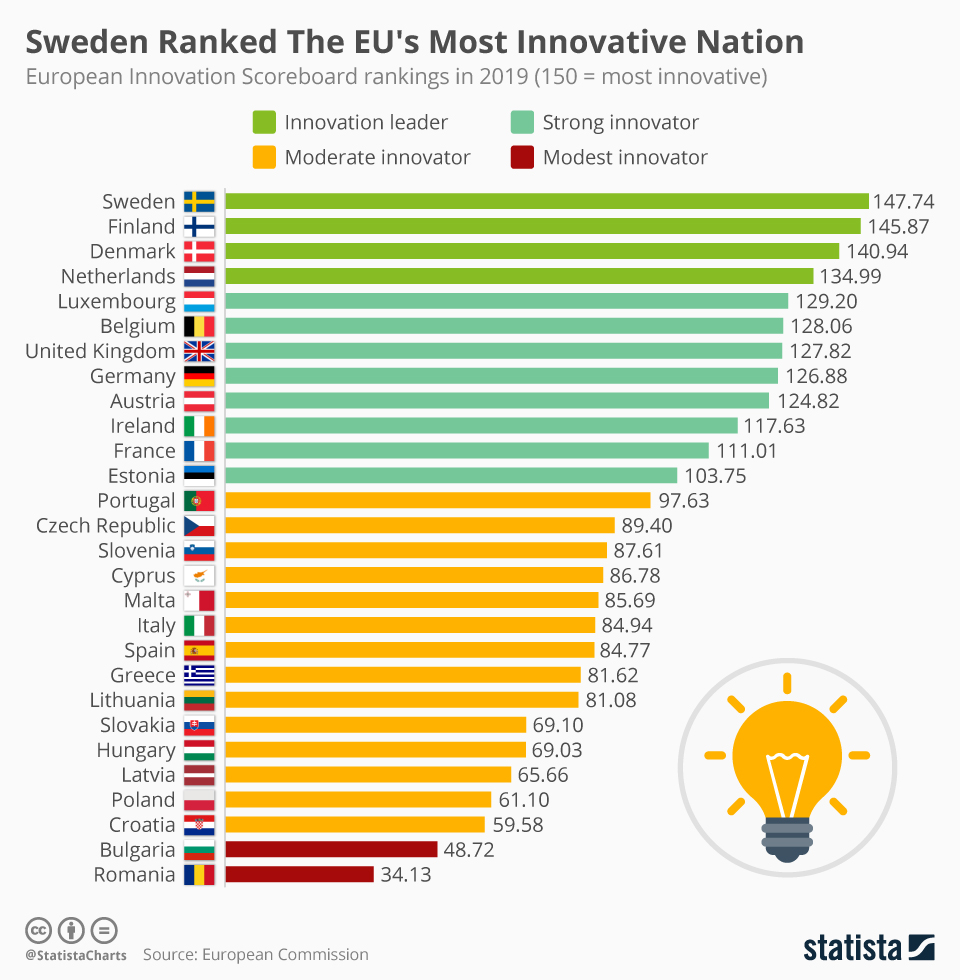 Photo source here
There are certain methodologies (for ex. POST – People, Objectives, Strategy, Technology) that can help you to start innovating. It's never healthy to bite more than you can chew so taking things step by step will bring you closer to a result. Many management methodologies say that first you should start with the idea, then elaborate it and then see what the next action can be. We recommend something similar which could work for any organization, see below some practical steps that you can use for facing this challenge.
Take the inventory
Create a full inventory inside your organization about the potential innovative ideas. You have an architecture department, DB experts, cross-platform developers, and many other frontend and backend development departments, so you might get surprised how many ideas are circling inside the walls of your company. After all, this is similar to how the greatest start-up ideas are born. According to an article on Valuer, 50% of the companies from the current list of Forbes will be replaced in the next 10 years by start-ups, their growth is so rapid that the life of companies is automatically decreased due to this. Just as an example from this Valuer list, see point 40. which says that 88% of the Fortune 500 companies from 1955 are no longer in operation.
Rate your ideas
After gathering all the ideas, you should consult internally what's worth to be elaborated further on. There is no bad idea when it comes to brainstorming or innovation but still, you need to analyze how viable an idea is. Don't forget that at some point you need to put in practice that idea and implementation look different in production.
Once we had this great idea of creating the Google "street view" of the Romanian Carpathian Mountains (I know, I know there is a contradiction in words street & mountains). To make things actually happen, we borrowed a camera from Google to officially capture for the first time, in a 360° photography format, the wonders of the Carpathian Mountains, the Ceahlău, Suhardul Mic, Red Lake (Lacul Roșu), Colții Trascăului, Piatra Singuratică and other natural beauties from our country.
Invest on a regular basis
When deciding to take an idea to the next level, you need to allocate time, human resources and money for getting things start. If you take a look, every big innovation in this world has a few years of research and work behind its back. So, don't get demotivated when creating planning for your idea you end up with a more than a one-year timeline.
Lynx Solutions always promoted local values; these types of initiatives appear on a regular basis in our portfolio and certainly required more than 1 year of implementation. Through these projects we promote local specialties and places to visit, you can even put Transylvania in your pocket by downloading the GoTransylvania app from App Store or Google Play store.
Assign an innovation leader
Leading the work is a must. Assign a leader to your department or team to make sure that there is always at least one person who knows what, when and why things happen on the project. This person will help you as a company owner or maybe an investor to be up to date with the progress of the work and when to cut or add funds if necessary.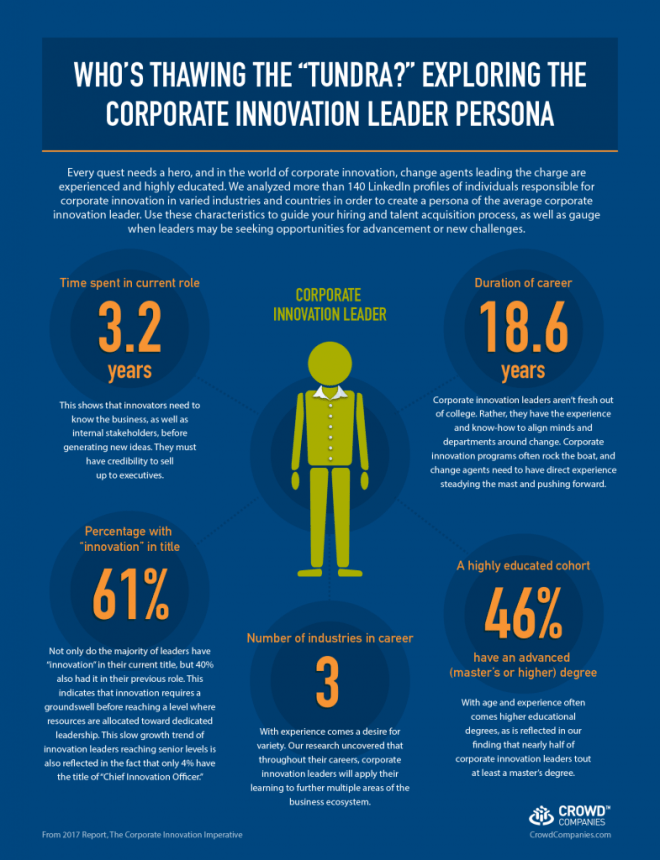 Photo source here
Keep up to date your ideas
If your previous or current so-called innovative idea turned out to be unrealistic, it always helps if you keep a continuous inventory of all your ideas. Don't forget that Google's innovation lab, the X lab was named after a failed project.
You never know when pops up the next great idea. Trust me, even the big ones are failing with ideas, but they always talk about the ones which succeeded. Keeping things up to date is insurance that your company is not left behind, even if only 43% of business managers agree to the competitive aspect of innovation.
Cover photo with the robot by Alex Knight on Unsplash